16/02/2009

No new reform measures are expected to be introduced this year, Finance Minister Danny Faure said in a press conference on Friday.
"This remains our agreement with our partners," he said but added one of the measures already being worked on is the country's tax system.
He was answering questions from all sections of the media after Paul Mathieu of the International Monetary Fund (IMF) reported on the findings of his team's review of the economic reforms launched to modernise the country's economy.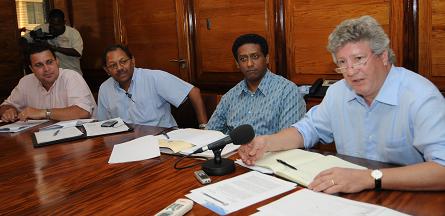 With Minister Faure were principal secretary for Finance Ahmed Afif and Central Bank governor Pierre Laporte.
"As you know we have in the country a technical team from the IMF helping us review the tax system."
He said government will examine recommendations from the team together with the Seychelles Chamber of Commerce and Industry and other partners and take a decision around May, otherwise taxes for now remain as they are although there are one or two cases under discussion whose outcome will be determined this month.
"Otherwise there are no major increases that government expects to announce."
He acknowledged that, as Mr Mathieu had already said, this year will see a decline in receipts from tourism causing significant challenges, adding the goods and services tax in the tourism sector was already planned to be adjusted from 10 to 12%.
"These are examples where government is finalising talks. We are also waiting for results for work being done by the Housing Finance Company (HFC) concerning cases presented to them regarding loans being paid by Seychellois."
Mr Faure said government is encouraging people who get letters adjusting their loan repayment amounts to approach the HFC and discuss their cases, then the company will meet with government to take a decision where we can put a certain amount of money at the disposal of the company to help it resolve the problems citizens are getting.
He also said in line with what President James Michel had said be done, the Ministry of Finance held intense talks with the Social Welfare Agency and new social weights have been arrived at to help vulnerable citizens who need assistance from the safety net put in place.
Mr Mathieu said Seychelles has a very high ownership of the reform programme and what IMF did was to bring expertise at the request of the government to help design a coherent package.
He said with IMF involvement, debtors will now take Seychelles' case seriously and adopt the Evian approach used for middle income countries with unsustainable debts.
"The programme is very much a partnership. There was no imposition of any conditions," he said, adding people overestimate the influence of IMF, and laughed at suggestions that the Fund even demands that elections be held, in the case of Seychelles in November according to rumours.
"It is the government to implement the programme and here we congratulate it for the courage and manner in which it has implemented the programme which is definitely working although there will be ups and downs," he said.
He said there may be need to adjust especially in view of the very adverse global economic situation which can of course not be blamed on Seychelles.
Mr Mathieu commended the government for approaching IMF saying "a lot of donors and partners would not have come in unless the IMF was involved.
"They want to have the confidence that if they put the money to help you, it will enable you to come out of the problem. That's why people like the World Bank and the African Development Bank want IMF to be here so they can unlock additional resources in the form of development loans.
He said in addition to the US $26 million injected by IMF to kick-start the programme, a further US $19 million will come into the economy this year.
"Debt restructuring would not have been possible without the IMF especially from the Paris Club so IMF is playing a catalytic role in financing."
He said the new loans are necessary to get Seychelles out of its current difficulties and Seychelles tax system is very much distorted, he said, hence IMF will bring in a technical team to modernise it and create a more level playing field.